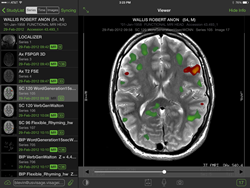 San Diego, CA (PRWEB) May 18, 2015
End-to-end enterprise imaging platform now supports mobile diagnostic use
SAN DIEGO, CA, May 18, 2015 Visage Imaging Inc. (Visage), a wholly owned subsidiary of Pro Medicus Ltd. (ASX: PME), has announced it has received FDA 510(k) clearance for the use of Visage Ease Pro(TM) for mobile diagnostic interpretation of all imaging modalities except mammography. Visage Ease Pro is a core component of the Visage 7 Enterprise Imaging Platform, enabling enterprise imaging with amazingly fast, thin-client, server-side processing technology scaled to support the imaging needs of the worlds largest healthcare institutions.
Visage Ease Pro is the first and only native iOS app with FDA clearance for mobile diagnostic interpretation that is a core component of an enterprise imaging platform designed for the diagnostic interpretation and clinical access of millions of imaging studies per year.
Fundamentally, this is an announcement about freedom and ubiquitous access, where clinicians and radiologists can now securely interpret any image (other than mammography), nearly anywhere, using Visage Ease Pro. Since the earliest days of medical imaging, that has been the rallying cry for our industry, and today with Visage 7 and Visage Ease Pro, were delivering on that promise for Visage customers around the globe, said Brad Levin, General Manager, North America and Global Head of Marketing.
Malte Westerhoff, PhD, Visage Imagings Co-Founder and Chief Technology Officer added, The platform responsible for the power of Visage Ease Pro is Visage 7, with its smart server-side processing capabilities. No separate servers dedicated for mobile use are required as its all integrated into one universal viewing platform. Dr. Westerhoff continued, This provides users the most consistent experience across the different use cases, and importantly, makes the solution efficient to deploy and maintain for the IT department. Visage 7 and Visage Ease Pro have been designed to scale to the largest enterprises. Tens of millions of annual studies can be processed by a single Visage 7 system for high-volume diagnostic interpretation by hundreds of radiologists, clinical review by tens of thousands of clinicians, and now with Visage Ease Pro, near anywhere mobile diagnostic interpretation.
As a native iOS application, Visage Ease Pro has been optimized for simple, fast access to images and reports. To support diagnostic interpretation, Visage Ease Pro requires the end user perform necessary calibration checks to ensure the display and environmental conditions are sufficient for diagnostic interpretation. Due to Visage 7s use of server-side processing, Visage Ease Pro can display even the largest multi-gigabyte-sized studies without performance degradation even over cellular networks. Visage Ease Pro includes numerous image manipulation features, display of non-DICOM (and non-diagnostic) images, support for recording voice memos, and the ability to upload photo attachments to studies on Visage 7. Visage Ease Pro also takes full advantage of the flexibility of iOS, offering customers the use of iOS Push Notifications, novel app-to-app integration via the use of the Visage 7 protocol handler, and for discriminating IT organizations, secure multi-factor authentication with integration to Active Directory. This robust level of native app integration and overall usability is not found when competing browser-based image viewers are used on mobile devices.
Consistent with general FDA principles for mobile apps, mobile devices should only be used for diagnosis in situations where no full diagnostic workstation is available (and not for mammography). Diagnostic interpretation using Visage Ease Pro should also only be performed on iPads due to the available screen real estate, with a user alert displayed when Visage Ease Pro is used on the iPhone.
Visage Ease Pro is a free download from the Apple App Store, and requires Visage 7.1.6 (or later) for use. Visage Ease Pro is also available for download via the Apple App Store for Canada, Australia and EU-countries (that accept English or German as languages of the IFU). Visage Ease Pro has been registered by Health Canada, TGA Australia and has received the CE Mark for mobile diagnostic use of imaging modalities other than mammography.
In addition to Visage Ease Pro, Visage also offers Visage Ease(SM) for mobile access to images and reports. Available since June 2011, Visage Ease will continue to be supported and is intended for education and illustration purposes only. Visage Ease is not a medical device and must not be used for diagnosis. In contrast to Visage Ease Pro, Visage Ease does not require calibration checks to ensure the display and environmental conditions are sufficient for viewing, which is attractive for physicians who are not reading diagnostically on their mobile devices.
For more information about Visage Ease Pro, please visit the Visage Imaging exhibit at this weeks ACR 2015 in Washington, DC (Marriott Wardman Park, Visage Booths 506/508, May 17-21), as well as the upcoming SIIM 2015, also in Washington, DC (Gaylord National Harbor, Visage Booths 406/408, May 28-30). To schedule a priority demonstration of Visage 7, please visit http://www.visageimaging.com/events/.
About Visage Imaging, Inc.
Visage Imaging is a global provider of enterprise imaging and advanced visualization solutions for diagnostic imaging. Visage 7 delivers amazingly fast server-side rendered images streamed via an intelligent thin-client viewer. Radiologists and referring physicians have a customized, protocol-driven workflow to natively view multi-dimensional imagery across a single desktop. Powerful imaging solutions include enterprise viewing and interpretation; image enablement of EMRs, VNAs, HIEs and portals; RIS/PACS, as well as anywhere mobile diagnostic access. http://www.visageimaging.com
About Pro Medicus Limited
Pro Medicus Limited [ASX: PME] is Australias leading imaging IT provider. Founded in 1983, the company provides a full range of integrated software products and services to hospital, imaging centers and health care groups worldwide. http://www.promed.com.au
# # #
Contacts:

Brad Levin, General Manager, North America and Global Head of Marketing

Visage Imaging, Inc.

Phone: (540) 454-9670

E-mail: blevin@visageimaging.com
Visage, Visage Imaging, Visage Ease Pro, Visage Ease, ANV, and Deconstructed PACS are trademarks, registered trademarks and service marks that are licensed by Visage Imaging Inc. Other product and company names mentioned may be trademarks and/or registered trademarks of their respective owners or licensees.
Find More Real Estate Groups Press Releases